A handy list! The following Cisco devices can be cloud registered to Cisco Webex Meetings:
Cisco TelePresence MX Series
MX200 G2
MX300 G2
MX700 Dual
MX800 Single
MX800 Dual
Cisco TelePresence SX Series
SX10
SX20
SX80
Cisco Webex Room Series
Room Kit
Room Kit Mini
Room USB
Room Phone
Room Kit Plus
Room Kit Pro
Room 55
Room 55 Dual
Room 70 Single G1
Room 70 Single G2
Room 70 Dual G1
Room 70 Dual G2
Cisco Webex Board Series
Webex Board 55
Webex Board 55S
Webex Board 70
Webex Board 70S
Webex Board 85
Cisco Webex Desk Series
DX70
DX80
Desk Pro
Desk Camera
Desk Hub
Cisco Webex Share Series
Webex Share
Whether you need endpoints to suite Desk, Huddle, Medium, Large, Ideation, Communication or Integration spaces – see our latest Cisco Webex 'The world works better face to face' guide for further information.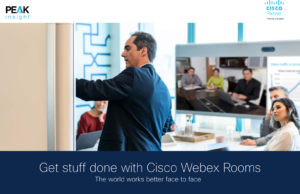 Would you like to put your existing Cisco Video Conferencing endpoints to better use, with Cisco Webex?
Are you interested in breathing new life into your meeting rooms, and the meeting experience for your organisation?
Peak Insight is an award-winning Cisco Collaboration, Contact Centre and Connectivity provider.
We are a safe pair of hands that will take the time to understand your business, working with you to deliver extraordinary business outcomes through our project services, managed services, vendor products and software add-ons.
We take a consulting-led and adoption-driven approach, with in-house software development capabilities to maximise the value of your investment.
Interested to learn more? Let's talk – schedule a call with our team, or call 1300 026 033 (option 1).