The Coronavirus (COVID-19) pandemic has changed many aspects of our lives, from the way we live, the way we socialize and interact with family and friends, to the way we work.  Some of these may return to a once familiar feeling or setting, some may be altered indefinitely; others will remain forever changed and become our "new normal".
One area that many are predicting is entering a "new normal" is our work life.  The way we work has been disrupted beyond what anyone could have imagined or planned for.  Most businesses would have had contingency plans for small pockets of the organization to work from home for a short period of time, as part of their Business Continuity Planning (BCP).  However, due to the sheer speed, scale and extended timeline of this disruption, many organisations have experienced major impacts on business activities and now have much of their workforce working from home.  People had to quickly get used to new ways of working and new ways of connecting, whilst striving to maintain a work-life balance. It was a period of confusion, uncertainty, and frenzy.
It was also during this period of frenzy and the unknown, that we witnessed the indomitable nature of the human spirit.  We saw organisations and communities rally together to overcome adversity.  We saw competing organisations, come together as one and break down once impenetrable commercial barriers to deliver solutions and hope to the world.  We saw businesses that within a single night or weekend, pivot their entire operations from a centralized office to a distributed work-from-home environment.   We saw people stand up and take control, empowering one another to make decisions and take actions for the betterment of the group.  And finally, we saw families united against an invisible foe, protecting each other and developing a heightened sense of empathy and understanding as we balanced work, homeschooling and coming to grips with our own fears and doubts during this period. It became a period of hope, inspiration and belief.
As the dust begins to settle, as we adjust to the new rhythms of life and working from home, how do we maintain momentum? How do we keep our teams motivated, productive, and most importantly engaged?
The answer to these questions rests at the intersection of transition and experience.
Workforce Transition
Companies that are thriving during this period understand that in like most disruptions, there is a transition process for the workforce.  As with human nature, people can be uncomfortable with change, which can lead to resistance, often fueled by an emotional response such as denial or loss.  Therefore, during this transition period it is important for leaders to have a deeper level of empathy and seek to understand how the workforce is feeling, not just at a point in time, but during the entire change process, as it evolves.  Understanding is key to helping and guiding the workforce, so in the end, they can be more comfortable with the change, accept it and reclaim a sense of balance and equilibrium in their lives.
At Peak Insight, we have developed a workforce transition model which helps our clients focus where and when it matters the most for employees to accelerate the time it takes for the workforce to embrace the new ways of working.  The model guides leaders through the stages and provides an understanding of the sentiments and needs of the workforce.  The model is used to align the organisation's technology and procedures to enhance the workforce experience and meet their evolving needs.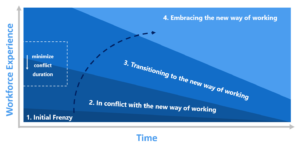 As the workforce navigates the transition process their expectations will change.  In the first phase, they are willing to put up with some pain for the greater good.  But as time passes, their need for seamless connection to information, systems and each other becomes more of a focus.  Organisations must be able to respond and pre-empt the needs of the workforce, integrating technology and evolving process and procedures to ensure they are fit-for-purpose for the distributed workforce era.  Organisations need to move from providing solutions and services to their employees to creating and providing experiences that enhance the human spirit.
Creating Experiences 
To create great workforce experiences, organisations need to have a relentless employee-centric mindset.  The advantages of great customer experience (CX) are well understood.  These range from increased customer retention, loyalty, satisfaction, and the inherent network effects of word-of-mouth endorsements.  However, the principals of building great experiences have not always translated internally for organisations to lift the satisfaction, retention, and productivity of employees.
At Peak Insight, our experience in developing workplace and future of work strategies has highlighted some important trends.  The expectations of the workforce have changed.  Firstly, it is being driven largely from a change in expectations as new generations enter the workforce. Secondly, the focus on diversity and the well-documented benefits of productivity increases, and finally, the modernisation and consumerisation of technology in our personal lives.  The days when employees were happy to accept the lack of modern tools and archaic processes to carry out their work activities have reached their sunset.  The forward-thinking organisations we have worked with have realised the importance of the employee experience to attract and retain employees, increase motivation and ensure their employees are productive and purpose-driven.
To realise a great employee experience, organisations must elevate the workforce to be front of mind and put them at the centre of technology and process design.  It is only when this happens organisations can move to an ambient employee experience that provides an integrated and immersive environment that enables the workforce to "get things done".  This extends to planning, creating and delivering meaningful experiences across channels and touch-points throughout the employee life-cycle.
The Peak Insight Workplace Experience vision is based on a deep understanding of the ever-changing needs, motivations, and value drivers of the workforce.  Our deep heritage in designing modern workforce experiences enables us to help our clients, not just to develop differentiating experiences for employees and customers, but implementing them sustainably through a robust and agile digital change process.   Our workforce experience framework defines the experience continuum that drives the engagement, co-creation and co-ownership of experiences within an organisation.
This co-create, human-centred approach allows us to plan, envision, design and build authentic solutions and interactions across all touch-points for our customers.  With the result being an integrated human experience, that supports the current and future organizational aspirations, to empower employees to bring their best to work every day.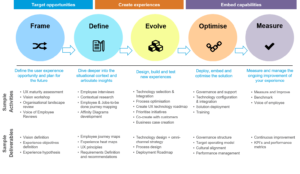 Achieving Results 
Our consulting-led, adoption-driven approach enables us to partner with our clients to quickly identify key initiatives that can:
Improve your employee experience
Drive greater results through employee engagement and productivity
Accelerate adoption of the top three (3) ways to improve employee performance
Enable HR to drive the workforce and employee experience
Interested to learn more? Let's talk – schedule a call with our team, or call 1300 026 033 (option 1).