Do you need to bulk-add a large number of users to a Cisco Webex Teams Space?
Perhaps you have a large remote workforce that you would like to keep engaged via a single space.
Perhaps you would like to create an announcement space for hundreds (or thousands) of customers to provide product updates and ongoing information.
Here is a solution to automatically and quickly add a large number of users in bulk to a new or existing Cisco Webex Teams space:
1. Browse to the Power Pack for Webex Teams and select 'Sign in with Cisco Webex'.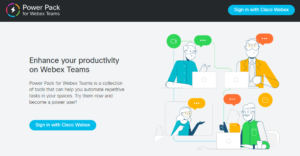 2. Enter your Cisco Webex account and password.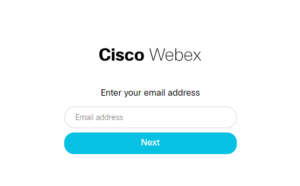 3. Under 'My Tools', select 'Invite'.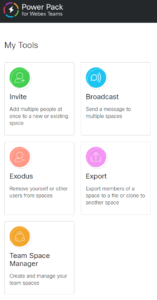 4. Select the space you would like to add people to from the list, or alternatively select the 'Create New Space' button.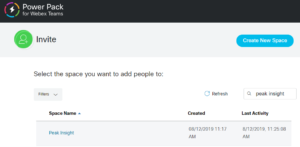 5. Enter the email addresses you would like to add, by uploading a .csv file or providing a list of email addresses separated by a comma into the box provided and then select 'Add People'.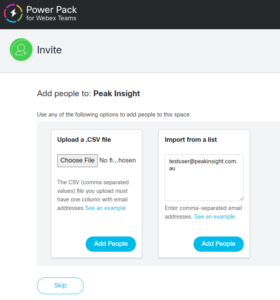 6. You should now receive a notification in your web browser and via Cisco Webex Teams that the users have been successfully added.  This can take some time for a large number of users.

That's it!  Well done and enjoy collaborating with Cisco Webex Teams and Peak Insight.
Are you taking full advantage of Cisco Webex Teams in your organisation?
Would you like to explore how the workflows for your team can be improved with Cisco Webex Teams?
Peak Insight is an award-winning Cisco Collaboration, Contact Centre and Connectivity provider.
We are a safe pair of hands that will take the time to understand your business, working with you to deliver extraordinary business outcomes through our project services, managed services, vendor products and software add-ons.
We take a consulting-led and adoption-driven approach, with in-house software development capabilities to maximise the value of your investment.
Interested to learn more? Let's talk – schedule a call with our team, or call 1300 026 033 (option 1).